Aku memang minat gila kat hasil kerja Aamir Khan. Filem2nya mesti lain dari yang lain. Filem2nya mempunyai jalan cerita yang cukup kemas dan terperinci. Watak2 dalam filem2nya sentiasa dipelbagaikan dan aku tak pernah jemu menontonnya. Ini hasil beliau yang terbaru selepas filem Three Idiots dan Ghanjini. Mesti cari DVDnya. Jangan harap dapat tengok kat panggung. Takda kawan. Wife memang tak minat begitu juga dengan anak2. Tak best tengok sorang2 kecuali kat rumah.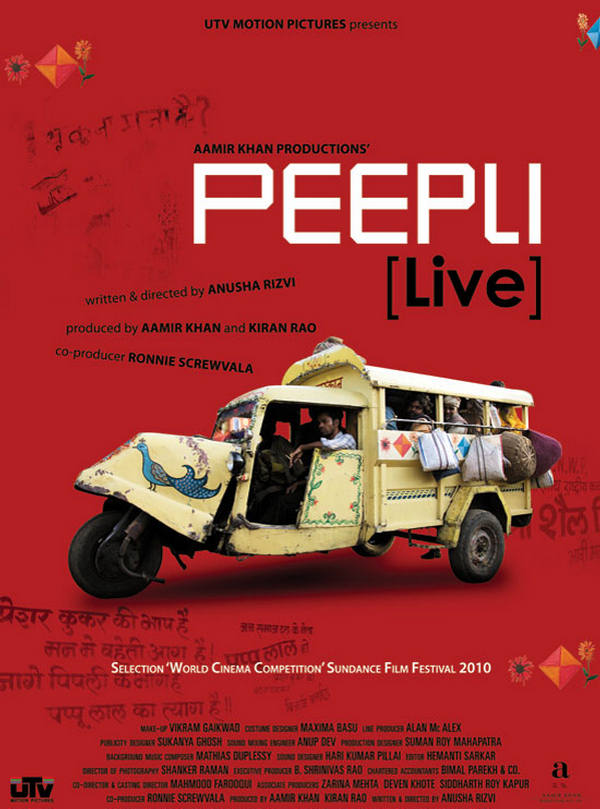 New movie spoof takes India by storm
A low-budget film on two brothers desperately seeking to save their ancestral patch of land from moneylenders puts the spotlight on farmers' suicides, rural indebtedness, a callous system, etc.
A SMALL budget Hindi movie spotlighting the travails of rural life, and starring un­­known theatre actors, has, surprisingly, won great critical acclaim even as big-budget Bollywood multi-starrers fall by the wayside. Thanks to the "multiplexing" of Bollywood, Peepli (Live) is all the buzz in urban India's well-appointed drawing rooms.
Though there is none of the Bollywood razzmatazz of garish but obscenely expensive sets, western locales as backdrop to lilting songs with the lead pair romancing around water fountains and trees, yet the bare-boned Peepli still captivates city audiences with its focus on dirt poor peasants and, incidentally, with a well-timed spoof on TV news. This one-idea movie exposing political and bureaucratic apathy and hypocrisy towards the farmers is an out and out winner.
Produced by Bollywood's reigning star-actor Aamir Khan,
Peepli
certainly owes its initial pull to the
clever marketing
that the thinking man's favourite hero did through various TV shows. Khan plugged his maiden home production on the popular
Indian Idol
TV show, talking about the honest, no-frills depiction of farmers' suicides, rural indebtedness, a callous system, etc. And later in another segment of the show he introduced the cast of
Peepli
. Not one of the assembled actors looked distantly filmy; they all spoke the local lingo, were dressed in ordinary, inexpensive clothes and found the spotlight rather embarrassing. While introducing them, Khan paid the lead actors, Omkar Das Manikpuri and Raghubir Yadav, the ultimate compliment: "Seeing them act, I realised that despite my 20-odd years in Bollywood I have yet to learn a lot. These guys are natural."
In
Peepli
, the duo play brothers desperately seeking
to save their ancestral patch of land from moneylenders
. Anyone who has seen
Peepli
will echo Khan's fulsome praise for its actors, most notably Manikpuri, playing the lead role of younger brother Natha, who is
persuaded into choosing to commit suicide
by his manipulative brother. A casual remark by a local politician, whom the brothers approached for money for freeing the small patch of land from the money-lender, sows the idea of suicide in their minds. The elder brother now bullies the younger to end his life so that the compensation, paid by the government to the family of farmers committing suicide due to indebtedness, could help save the land from being grabbed by the moneylender. From then on, another strand is highlighted in the movie, that of news-hungry TV hounds.
A report in a village paper about Natha's promised suicide is soon picked up by a crafty reporter stringing for a
national TV network
. With the usual
exaggerations and embellishments
, the network telecasts the story about Natha's poverty and his decision to end his life in order to save his small tract of land and to provide for his wife, children and old mother. Predictably, the remote Peepli hamlet, which can be reached only through dirt tracks in the entrails of Hindi heartland, becomes the focal of rival TV networks. Overnight, scores of outdoor broadcasting vans converge on the little speck of a hamlet, with Natha's thatched hut serving as the nodal point.
Now, if the 24x7 media has Natha as its main story, it is natural for both r
uling and opposition politicians to shed the proverbial crocodile tears
and try and dissuade him from his deadly mission. The need for politicians to save Natha acquires further urgency because of a crucial by-election in the constituency of which Peepli village is an integral part. Thus, you have the central government debating the possibility of setting up a committee to find out why Natha is driven to end his life. And you have the state Chief Minister goading the local district administration to rescue Natha by granting him whatever possible benefits there are for indigent farmers.
An old government scheme under which water hand-pumps are allotted to poor farmers becomes a metaphor for wrong-headedness towards the entire rural sector. Natha is given the hand-pump with great fanfare with nary a thought about the money required to bore the earth in order to install it. So, it becomes a showpiece in the centre of his tiny hut, with his bedraggled children playing with it as some sort of a toy. However, this does not prevent the officials and the ruling politicians from proclaiming how they had been so solicitous of Natha's welfare that they had given him a hand-pump gratis.
In real life, Manikpuri, the actor who plays Natha in the movie, is an indigent actor, occasionally finding work in plays and small-budget movies but not enough to come out of the poverty in which he was born some 40 years ago, the son of a daily-wage earner.
A member of the legendary Bhopal-based Habib Tanbir Theatre Group, Manikpuri, struggled to sustain his family of seven, including wife, three children, brother and mother, till Peepli happened to him. He is now a celebrity. The Chief Minister of Chhattisgarh Raman Singh feted him at a function, giving him a purse of over US$2,000 (RM6,175). The media has made a beeline to his village home, doing stories on his real-life poverty and his post-Peepli future. He is contemplating a move to Mumbai to try his luck in Bollywood. For sure, Peepli would not have been possible without the husband-and-wife director duo of Aunsha Rizvi and Mahmood Farooqui who conceived the story and waited three years for Bollywood star Aamir Khan to endorse the project.
Both Rizvi and Farooqui are former TV journalists, and well aware of the no-holds-barred competition among rival networks for rating points. If one half of Peepli focuses on the tragedy of rural India, the other half is dominated by the antics of the heartless media which are concerned only about sensational breaking news. Admittedly, Bollywood has handled rural poverty in such path-breaking movies as Do Bigha Zameen, Mother India, etc, back in the 50s, and in a more dramatic, more realistic manner. But the super-duper success of the low-budget Peepli in the post-economic liberalisation era essentially means two things.
One, that with the advent of multi-screen multiplexes, film producers can experiment with sophisticated themes minus the usual melodrama, songs and dances, villains and expensive film sets, etc. And the second is a corollary of the first. With the bourgeoning middle class, there is a market for good, meaningful (as against popular) cinema. Peepli could have been inconceivable in the pre-multiplex era when film producers had to cater to 1,000-plus cinema halls with the core interests of the front stalls uppermost in their minds.
p.s Kenapa produser2 Malaysia tidak boleh menghasilkan filem2 murah dan simple tetapi memberi kesan yang besar kepada rakyatnya? Balik2 kisah hantu melayang2, kisah ilmu hitam, kisah mat2 rempit, kisah orang kaya2 tamak haloba. Semua kisah2 kehidupan yang negatif. La ni semua sibuk pulak buat filem2 kehidupan songsang. Dua Alam, Anu Dalam Botol. Dengar tajuk aje dah meloyakan tekak...
Klik
ini
untuk trailer dan lanjut mengenai movie ini.